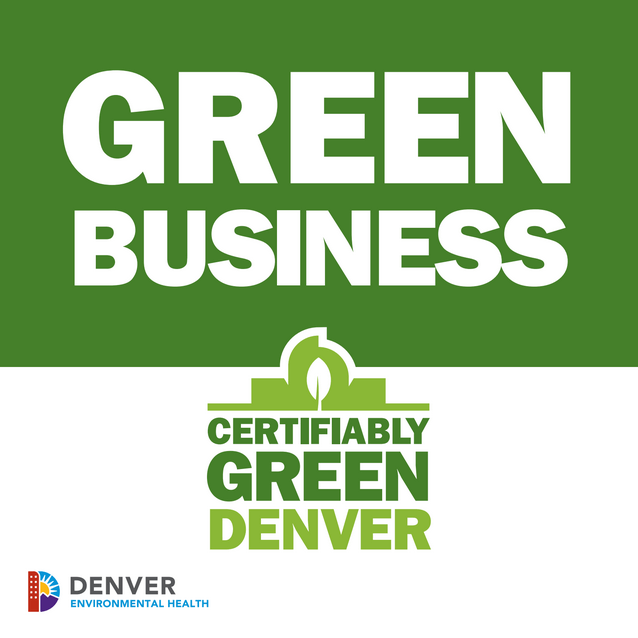 Zodiac Event Displays is wholeheartedly committed to sustainable business practices, and we continue to look for ways to reduce our carbon footprint, as well as our overall impact on the planet. Printing signs and banners can be a resource intensive endeavor, so it is important for us to partner with factories that recognize the significance of conservation and clean manufacturing.
Our offices are solar powered, outfitted with low-flow plumbing fixtures, and we recycle virtually everything we can get our hands on.  Because of our commitment to conservation, we are a Green Certified business through the city and county of Denver.  Certifiably Green Denver aims to help Denver's businesses conserve resources and lessen environmental impacts by adopting efficient technologies and behavioral practices.  For more information about Certifiably Green Denver, and for a complete list of certified green businesses, visit www.Denvergov.org/CGD.
Our primary factory is in Durban, South Africa, and we make every possible effort to minimize carbon emissions by shipping our products via bulk, FOB shipments. By collectively grouping our orders together, there is an overall reduction in energy and carbon emissions that would result from individual product shipments.
Our Green Initiatives & Social Responsibility Pledge
We endeavor to be environmentally responsible and aware of our impact, whether it's our manufacturing processes, marketing materials or our recycling initiatives.
We have strict processes in place to govern recycling of our waste paper and fabric, both on site at our factories as well as at our corporate offices here in Denver, Colorado.
We use recyclable polyester. Once recycled it can be used to make plastic, concrete and clothing, increasing landfill life and reducing toxic incinerator emissions.
All our un-recycled waste fabric is donated to community upliftment programs in South Africa. The fabric is used to make school bags, raincoats, shopping bags and sports bags. Thousands of these products are donated to underprivileged children every year.
We make it a point to educate our client's on the merits of printing on fabric vs. vinyl, due to the latter's toxicity in all phases of its lifecycle.
We invite our customers to send us back their old banners so that we can responsibly recycle them.
Our fiberglass and aluminum hardware carry lifetime warranties, and can be reused indefinitely.
All our inks are water based and non-toxic.
We have virtually eliminated our own printed paper advertising, doing more via our website and digital product flyers, forgoing a traditional paper catalog altogether.
Above all, we build our products to last!