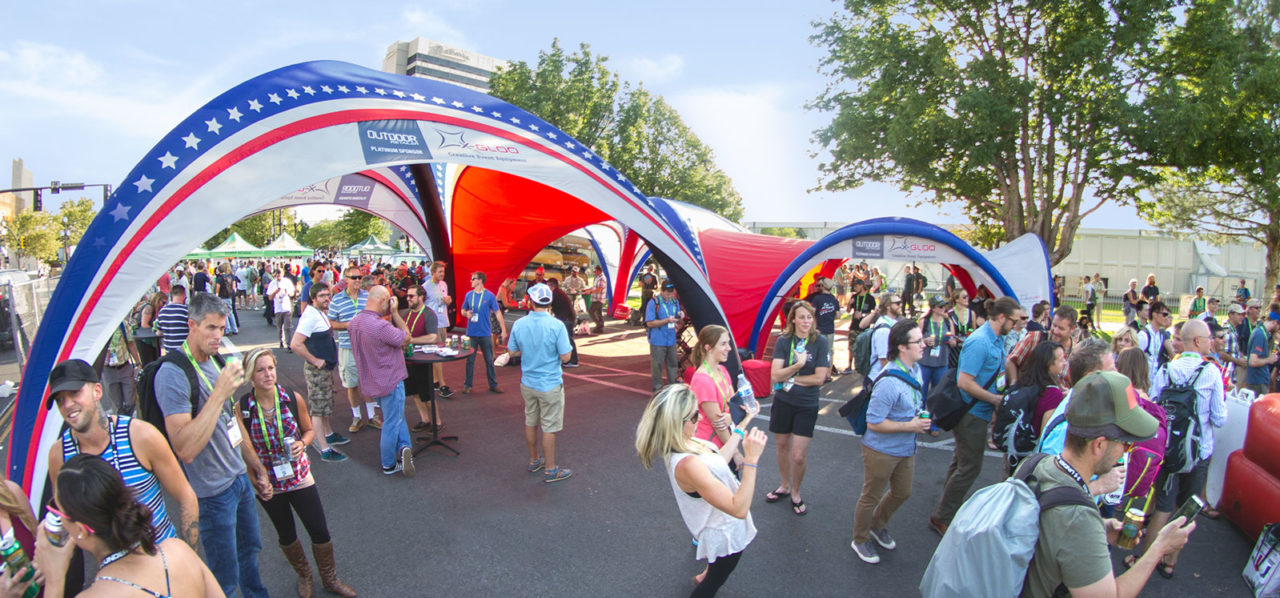 We're excited to announce that Zodiac Event Displays is now an official partner of the next generation of inflatable event tents – known as X-GLOO! Thousands of hours of designing and testing these products has led to a more solid, durable design that can withstand the elements while still incorporating mobility. These tents, with their German engineering and design, are waterproof, lightweight, wind-stable, and battle-tested for indoor or outdoor use. Plus, when you're ready to break down your station, these inflatables deconstruct down to a surprisingly small pack volume that makes the product easy to transport or store.
Built for the Long Run – and the Outdoors
Is your company a frequently flyer at tradeshows and events? The X-GLOO is built to last with some well-engineered durability features. The easily customizable fabric is UV resistant, which keeps your designs from fading over time and maintains the integrity of the fabric. The material is also fire retardant for improved safety, and waterproof.
Does your outdoor company often exhibit in the great outdoors where your customers use your products? Good news – these inflatable event tents have been tested in a professional wind tunnel and can withstand wind speeds of up to 60 km/h (37 mph). These products can take a beating thanks to their double-row stitching in key areas, and their large stainless-steel anchor rings which hold the tents in place.
Intelligent Design, Inside and Out
X-GLOO tents have been designed to create unique experiences through a Block-Building System that allows multiple tents to be connected, forming a "base-camp" set up. Accessories include tunnel parts and banners, which create a fluid environment safe from the elements. Additionally, several types of walls can be connected to the tents, including a standard wall, window wall, mesh wall, entrance wall, or double-sided wall for two-sided printing.
These accessories can all be connected to a variety of different tent sizes – from 4×4 feet up to 8×8 feet. Plus, the tent rooves and tubes can be swapped out for new designs or new sizes. There are truly countless combination possibilities, making for great versatility. The best part? Attached or changing out accessories is a one-person job.
Dye-sublimation Printing Available
Durability and versatility are important when it comes to your displays. However, it is ultimately the look and branding of your tents that seal the deal when attracting attendees and getting them to stay. X-GLOO tents offer full-surface dye-sublimation printing for custom, vibrant designs that elevate your experiential marketing. Using this method allows the design to truly seep into the fabric, making it less susceptible to fading or cracking – event when your tents spend a lot of time outside. With limitless color options, you'll finally be able to do your brand justice.
Used by the Top Brands in the World
X-GLOO tents have been used by some of the biggest brand names across the globe. From Jeep to Nike, Mercedes to Coca-Cola, Gillette to Cadillac, companies love the unique shape and unbeatable engineering that gives their companies an edge at large-scale events. These businesses have utilized the amazing attachable elements to create breathtaking tent-cities and unforgettable environments. When choosing an event display, these companies go with a product that is of the same quality and standard as their own world-class organizations.
Imagine immersing attendees in a world dedicated to your brand – filled with product displays, resting areas, or exhibitor tables. You can bring an entire outdoor event inside a your own fully walled-off enclosure! The possibilities are endless with X-GLOO inflatable event tents. Contact Zodiac Event Displays today more information on how to order your custom tent, or to order a part or accessory.