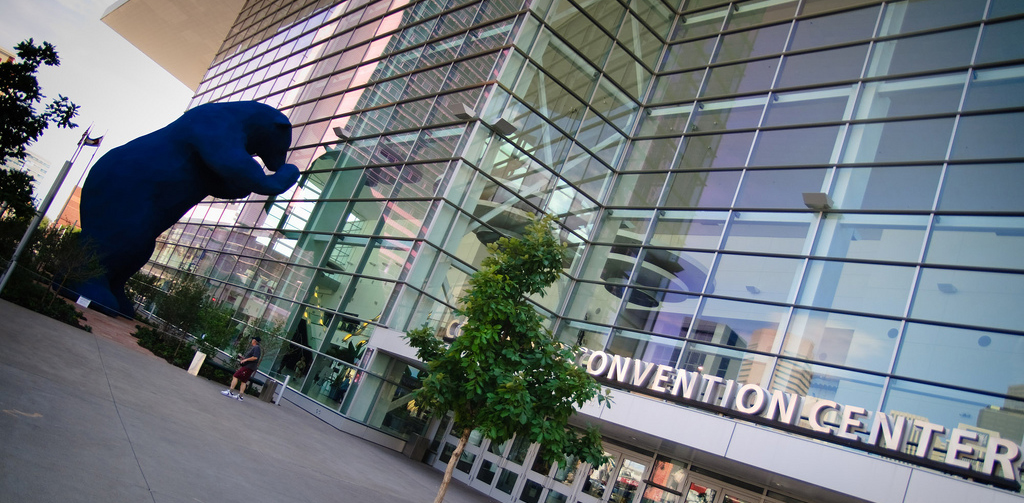 At the end of 2016, we put out a list of 10 Expos Coming to the Colorado Convention Center in 2017. Since then, there have been a slew of new events posted to the CCC 2017 calendar with awesome, can't-miss expos your business should either exhibit at or attend. So, we felt compelled to put out an updated list to help you get through expo season. As usual, you'll likely see some Zodiac Event Displays signage inside the eye-popping, jaw-dropping displays – so try to keep your eyes peeled while you peruse through the wonderful exhibits under the gaze of the Big Blue Bear. Here are 10 summer expos and events coming to the Colorado Convention Center in 2017:
Society of Nuclear Medicine and Molecular Imaging Annual Meeting
When:June 10 – 14, 2017
About This Event:Find out the latest in nuclear and molecular imaging at the annual SNMMI meeting. This expo promises to be packed with the latest in imaging technology. Enjoy networking events and virtual education opportunities. Dubbed "the premier educational and networking event in molecular imaging and nuclear medicine," this event promises to be worth the admission price. See the full pricing list via the register link below.
Where to Purchase Tickets:Register Here
Colorado School Nutrition Association Summer Conference
When:June 12 – 14, 2017
About This Event:School nutrition professionals will be meeting at this Summer conference to engage in 30 education sessions on school nutrition, all of which focus on USDA Professional Standards key areas. Attendees have the opportunity to earn up to 13 CEUs (continuing education units) while learning about Operations, Administration, Communications/Marketing, and Nutrition. The event also includes networking opportunities for education professional, and displays of the latest in school nutrition.
Where to Purchase Tickets:Register Here
ASSE Safety 2017 – Professional Development Conference & Exposition
When:June 16 – 25
About This Event:Are you a safety professional tasked with creating safer experiences, assessing risk, or handling environmental management? The ASSE Safety 2017 Professional Development Conference & Exposition provides 20 hours of IACET accredited education to get you up to speed on the latest in safety technology and standards. Learn to solve safety issues based on peer examples. Finally, you'll hear from industry speakers for experienced insight.
Where to Purchase Tickets:Register Here
The Small Business Expo
When:June 22, 2017
About This Event:Dubbed as "Denver's Biggest Networking Event of the Year," this conference gives business owners the chance to network with c-level executives and business owners, attend workshops, and generate new leads for your business. The "Inspiration 2020 Showcase" will feature a presentation by Bill Walsh titled "The 7 Keys to Building a 7 Figure Business."Visit the event website for updated information on speakers, exhibitors, and the event agenda. Registration is free and open to the public, and don't forget to register for the after party!
Where to Purchase Tickets:Register Here
Salute to Seniors Expo
When:June 24, 2017
About this Event:The Colorado Gerontological Society is hosting the largest senior expo in Colorado. See special guest speakers and entertainment, and get information and tools to help live a healthy life. The 28thannual event will see over 2,000 guests and a 100 exhibitors from various industries.
Where to Purchase Tickets:Visit the Event Website
The Prego Expo
When: June 25, 2017
About This Event: Are you a new parent or expecting? Want to brush up on your parenting skills or learn from parenting experts? The Prego Expo is the "premiere pregnancy, parenting, and baby expo" featuring experts and vendors to help assist you with getting through pregnancy and raising a child. The event includes educational seminars aimed at helping you plan through all stages of parenting. There will also be baby shower gift ideas for friends and family. Advanced ticket prices are $15, with day-of-show tickets going for $18.
Where to Purchase Tickets:Purchase Tickets Here
Denver Comic Con 2017
When: June 30 – July 2, 2017
About This Event: The ever-increasing in popularity Denver Comic Con will attract cosplayers and comic book fans to this 3-day expo featuring pop culture icons and legendary comic book characters. The event will feature actors from hit TV series' Buffy the Vampire Slayer and Stranger Things, voiceover actors from fan-favorite cartoons like Aqua Teen Hunger Force and Dragon Ball Z, and comic book creators from the Golden, Silver, and Bronze eras of comics. Don't forget to try the official Comic Con beer "I am Brewt!" Tickets start at $38.50, with 3-day passes available.
Where to Purchase Tickets:Purchase Tickets Here
Colorado State Fitness Expo
When: July 8 – 9, 2017
About This Event: Attend the largest health and fitness expo in the country's fittest state! This event, put on by BodyBuilding.com, will feature displays and shows from a variety of big name fitness organizations, including Ninja Warrior and Ninja Parkour, Muscle & Fitness, Sparta Combat League, and more. Whether you are in to rock climbing, MMA, body building, or fitness in general, you'll want to attend this massive event!
Where to Purchase Tickets:Event Information
American Cheese Society Festival of Cheese
When:July 25
About This Event: I learned two important things when compiling this list. Number one is that there is an American Cheese Society. And number two is that they are hosting a Festival of Cheese. You'll have access to over 1,800 types of cheese, presumably just a toothpick's length away from your fingertips. Celebrate winning cheeses judged by the ACS while sampling craft beer, charcuterie, and chocolate. Enough said?
Where to Purchase Tickets:Get Tickets Here
AAPM 59th Annual Meeting & Exhibition
When: July 30 – Aug 3, 2017
About This Event:The AAPM, or the American Association of Physicists in Medicine, is hosting their 59th annual exhibition in Denver "to advance the science, education and professional practice of medical physics." The event will feature an education program designed to teach emerging technical and professional issues, as well as a science program highlighted by the newest advancements in medical imaging and radiation therapy. Registration is available for both members and non-members of AAPM.
Where to Purchase Tickets:Register Here