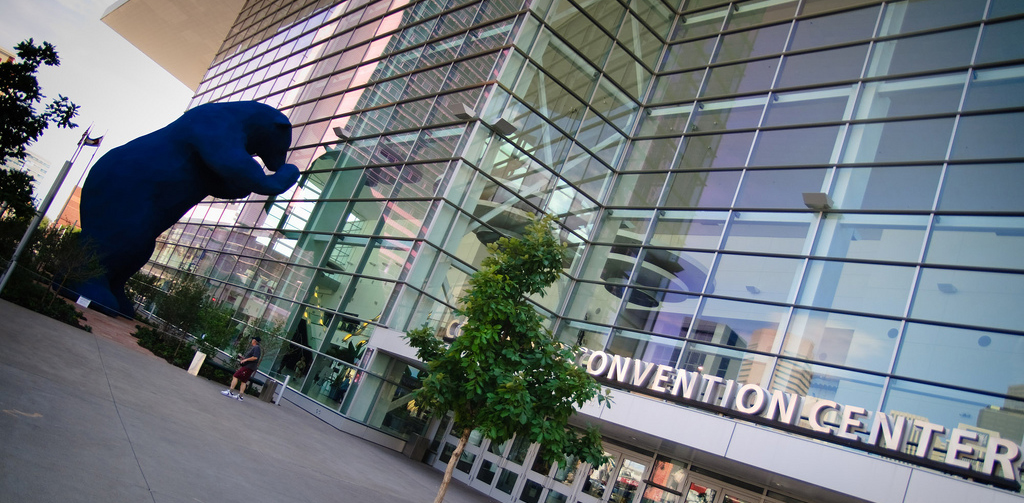 The holidays are upon us and the New Year is just around the corner (can you believe it?). With the new year comes several exciting new expos slated for the Colorado Convention Center as procured by the 100 professional meeting planners for this iconic Denver venue. (Fun fact: the Colorado Convention Center is the first venue to achieve the ASTM Environmentally Sustainable Meetings, Events, Trade Shows, and Conferences certification! Read more about their sustainability programs
See upcoming events and expos coming to the Colorado Convention Center Summer 2017 here.
As one of Denver's leaders in Event Displays, we feel it is our duty to inform you of the best expos to display your custom banners and signage – or to see all the magnificent displays as an attendee. To exhibit at any of these events, visit the CCC Exhibitors page. Here are 10 expos coming to the Colorado Convention Center in 2017:
When: January 5 – 7
About This Event: This expo is the "Largest RV Show in the Rockies" and will showcase over 300 RV units. The event will also be a great place to find RV and outdoor accessories, including camping accessories, hitches, and resort destinations. Kids 12 and under get in free!
Where to Buy Tickets:Purchase Tickets Here
When: January 6 – 8
About This event: See the newest models and gadgets to take on the lake or rivers of Colorado next year at the Denver Boat Show! The event is being promoted as the "biggest and best show yet" thanks to its increased list of exhibitors and bigger venue. Features brands will include Action Watersports, Rocky Mountain Boat Company, and RPM Motorsports. The best part of all? A portion of the proceeds generated by the event's ticket sales are being donated to the Colorado Parks and Wildlife Invasive Species Program.
Where to Buy TicketsPurchase Tickets Here
When: January 12 – 15
About This Event: This year marks the Denver Sportsmen's Expo's 40th year in Colorado. With over 500 exhibitors, you'll be able to grab gear, advice from experts and information on travel adventures. Witness or participate in the "elk-calling contest." You can also sit in on an Outdoors talk about Colorado, Wyoming, Montana, or British Columbia. The Fly-fishing pavilion is even hosting a Casting competition! Youth under 16 get in for free.
Where to Purchase Tickets:Purchase Tickets Here
When: January 15
About This Event: Getting hitched in 2017? The Rocky Mountain Bridal Show is offering "Advice. Information. Inspiration." The event will include a bridal runway fashion show and will include a large wedding marketplace. The event promises to be perfect for anyone designing or planning a wedding, while showing displays from the "areas most trusted wedding professionals." In other words – if you're in the wedding industry or are having your own wedding, you need to be at this expo!
Where to Purchase Tickets:Purchase Tickets Here
When: February 4 – 12
About This Event: This 9 day expo provides inspiration for landscaping, gardening, and home improvement. The event hosts over 650 exhibitors at 1,400 booths showing off their brands to over 50,000 attendees. The event is covered in gardens and flowers! If you love spending time in your garden or making improvements to your home, be sure to make it out to the 2017 Colorado Garden & Home Show! Kids 12 and under are free.
Where to Purchase Tickets: Colorado Convention Center Box Office
When:February 7 – 11
About This Event: The ProGreen Expo is a "Green Industry" event showcasing landscaping and irrigation companies from around the Rocky Mountain region. Attendees will get a "hands-on look at the latest green technology and products." The event is expecting over 400 exhibitors, and attendees of the event have 70% buying power. Educational classes include "Greenhouse Heating & Cooling," "Pesticide Exposure & Health,"and "Irrigation Basics." For clarification – this is not an event about sustainability or conservation.
Where to Purchase Tickets:Register Here
When: March 7 -9
About This Event: The RemTEC Summit focuses on providing information "on technology, application and policy impacting the restoration of contaminated sites." Presenters at the event come from around the country and include some of the top science, technology and engineering minds tackling environmental problems. The event also provides the opportunity for exhibitors/vendors to showcase their Remediation Technology to potential customers in attendance.
Where to Purchase Tickets: Register Here
When: March 18 – 19
About This Event: Perhaps our most interesting Expo on the list, the Denver Travel & Adventure show is for travel enthusiasts with wander lust. The event hosts some of the biggest names in travel, with past celebrities including Rick Steves, as well as local travel experts to help you get out of town. Attendees will discover leading travel destinations and exclusive travel deals. This year's keynote speakers include Travel Channel Host Samantha Brown, Emmy Award-Winner Peter Greenberg, and Author Patricia Schultz.
Where to Purchase Tickets:Purchase Tickets Here
When: April 5 – 9
About This Event: Gear heads get ready for the 2017 Denver Auto Show. This event will be showcasing over 600 cars worth over $19 million in total. Attendees will be able to test drive various cars at the event, as well as sit in and tinker with cars on the showroom floors. The event will showcase new cars, as well as concept and trick-out cars. Children 6 and under get in free.
Where to Purchase Tickets:Purchase Tickets Here
When: April 12
About This Event: This event is for professionals in the health industry looking to learn more about the "culture of health." Led by an "employer led not-for-profit organization," this event brings together those from the pharmaceutical industry, health & wellness managers, and "engaged individuals to learn more about total worker health."
Where to Purchase Tickets:Purchase Tickets Here
See Our New Summer Colorado Convention Center Expo List
We recently released an article with an updated list of summer expos and events making their way to the Colorado Convention Center in 2017. View the updated list now!
View the updated list