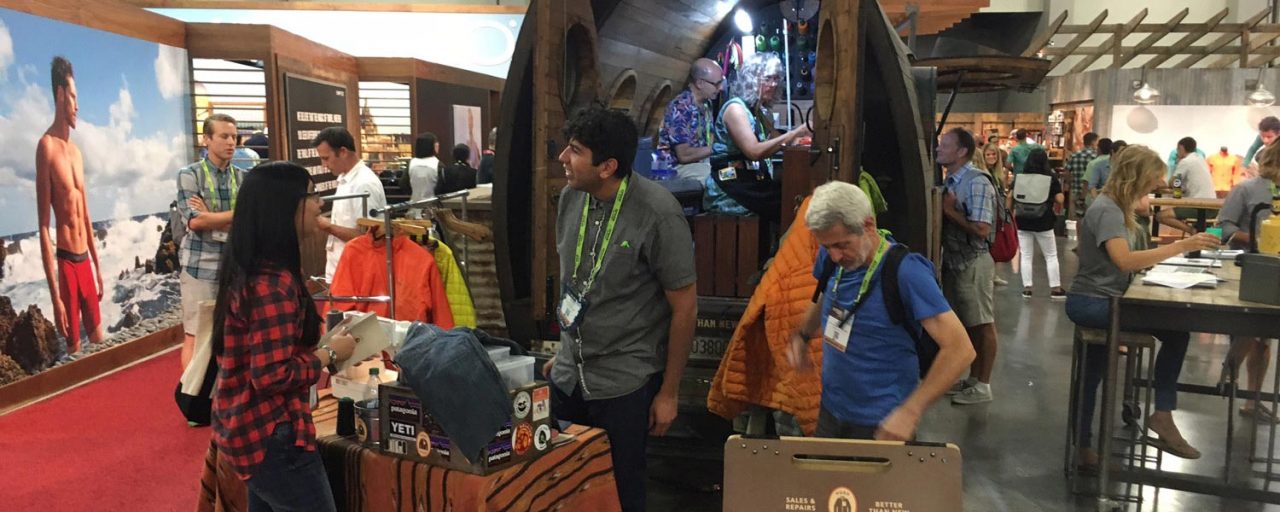 We  returned from Outdoor Retailer, Summer Market in Salt Lake City in August, the largest tradeshow/gathering of outdoor related brands in the world.  For those who haven't been, this show is heaven for anyone who is interested in camping, climbing, hiking, paddling, clothing, and everything in between.  While not open to the public, this show is a truly a gear junkie's Shangri la.  To sum, think of your favorite outdoor brand, and without fail, they will be here holding court, trying to entice the world's top retail shops to sell their respective wares for the upcoming season.
As the name implies, this show is designed to cater to retailers.  This ranges from large shops like REI, to small mom and pops around the country.  If you're lucky enough to attend, you're afforded a glimpse into the future of the outdoor industry, in that you can see the latest and greatest goods before they hit the general market.
The Challenge of Exhibiting at OR
For the 2016 Summer Market, there were approximately 1,600 exhibitors.  This is an extraordinary amount of companies vying for attention, hence why we wanted to share some advice for standing apart from the pack.  OR is akin to a large village, and it is spread out seemingly based on seniority as well as exhibit spend.  The large brands that have been coming for years are afforded prime real estate in the main exhibit hall, and many of these companies have held the same spot year after year, think Black Diamond, Osprey, Marmot, etc. This is not an inexpensive show to exhibit at, and only the most innovative, desirable, and en vogue will have the staying power to survive.  With over 50,000 attendees, you need to make sure that as an exhibitor, you're putting your best face forward.
As a new exhibitor, you are unfortunately at an extreme disadvantage.  While the bigger and more established brands have exposure in the most well-traversed areas, the neophytes are relegated to the ancillary ballroom halls, or the newly constructed pavilions, which are akin to circus tents with varying products and offerings, as well as lower traffic compared to the main hall. To that end, standing out in ANY area of the show, particularly the lower trafficked areas, is tantamount to ensuring your brand rises above the rest and converts visitors – and ultimately orders.
How Small Businesses Can Achieve Buzz at Large Scale Tradeshows
How to achieve buzz?  Well, the obvious place to start is with your visual merchandising collateral.  Think custom, overhead direction signs, eye-popping back walls, large flag banners, etc.  It goes without saying, that your booth needs to be both well put together and executed, but also inviting and open for business so to speak. To that end, coupling an aesthetically pleasing booth with a reason to visit helps to drive traffic and engagement.
Getting people interested in visiting your booth can be done in a number of different ways.  Many companies go the route of hiring talent to parade their respective products around, and while this can be effective, I think it misses the mark in that they're typically not well versed enough in your product benefits to convey any real buying triggers.  What does seem to work well, though are giveaways, product discounts or introductory show specials, and any experiential engagement that helps you get people to stop and take a second look.
GoPro, Yeti and Sperry Were Best at Stirring Excitement
Who does all of these things well?  We saw a few stellar examples of this year, but I'm reminded of GoPro, who still does daily giveaways of their latest and greatest camera, albeit in a more reserved and toned down fashion.  Years ago, they had an MC standing on top of a tricked-out dune buggy, making the crowd frenzied by encouraging a steady cadence of "Go Pro, Go Pro, Go Pro!"
Yeti Coolers also put together a well thought out campaign by offering their hopper 30 cooler for an unprecedented $200.00 off retail.  They had a limited supply of these ( 200 units) and according to an employee I spoke with, the reduced pricing was more significant than their own team could purchase for.  Granted, this company is already well established, but offering a killer deal and limiting inventory equated to a line around the show floor for a chance to grab one of these highly sought after coolers.
We also saw Sperry, a boat shoe manufacturer, with a virtual reality booth that allowed patrons to strap on glasses and emerge themselves in a VR sailing race which seemed to draw smiles from the participant, as well as interest from surrounding crowds who were able to see what the viewer saw via a digital screen behind the cockpit.
To sum, you have a very narrow window to convey your product benefits, and a visually appealing booth coupled with an enticing offer or product giveaway can often help to tip the scales in your brand's favor.  Contact Zodiac Event Displays to discuss how we can help make you stand out at your next event!