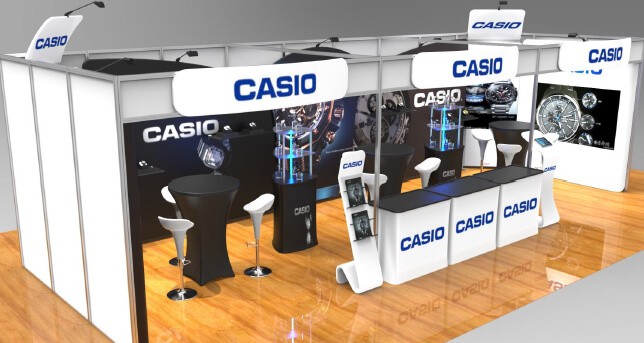 With summer already around the corner, indoor and outdoor events, conventions, and conferences will be everywhere you turn. If you're a small business owner, this season is the perfect time to get the word out and share your brand and your business in an interactive way through promotional events.
If you're thinking about packing up and hitting the road for a local fair or a national convention, make sure you get the most exposure out of your experience and effort. Otherwise, a positive opportunity could fall flat, and won't be worth your investment from a business perspective. Choosing impactful signage options can be a high-return investment, so here are our favorite three creative options from Zodiac Displays to create a great setup that will make this summer one for business growth and new opportunities.
Go Beyond Banners
Branding with signage may seem obvious — a sign with your logo is an instant advertisement. But at Zodiac Displays, we take signage to the next level to make sure your brand stands out in a crowd. You're probably familiar with banners, but have you considered what new creative options you'd have with a backwall display, a three-dimensional A-frame pop-up banner, or a 360-degree hanging sign that leverages vertical space? Take a look at some of our examples for inspiration, but don't feel overwhelmed. Talk to our team — we're the experts at helping you choose the right branding option for your business style, logo, and event type.
When you work with us to create a unique display tailored to your business products and goals, you'll certainly stand out for the right reasons. In fact, your display will have that extra professional and creative touch that could get the attention of not only visitors, but also event photographers, sponsors, and more. With the best-looking design at an event, your brand could stick in the minds of attendees way after the event is over and reap additional benefits from word-of-mouth, social media, event promotional materials, and more. Taking the time to thoughtfully consider your space, logo and brand formatting, as well as your business's message will truly help give your display that extra level of appeal for high impact and a long-lasting return on the investment.
Create an Environment
This year, think beyond signs that don't have a practical purpose. Use branded signs as accessories and complements to your very own business environment within an event. Large open spaces full of vendors and stands is overwhelming, and to visitors, all the businesses start to blend together. You can enhance your display by using a branded or uniquely-shaped tent in a variety of colors from Zodiac Displays to create a cohesive environment for visitors. Especially at all-outdoor events, tents provide a welcome oasis for your audience to pause. You'll attract attention and guests by creating a completely branded environment that offers shade, cool drinks, and maybe small promotional items all with one clear message.
Our team has extensive experience suggesting ways your specific business type and style can offer a total environment for potential customers. Check out our pop-up tents to define your space, or offer guests shade in a more casual setting with market umbrellas and more. Take into account your style as a brand and the type of event you're sponsoring/hosting to get the most from your display setup — beyond basic signage.
Engage Your Audience
Our final recommendation is possibly the most creative and fun. Designing an interactive display will make your business the centerpiece of an event and engage your audience in a unique — and best of all, memorable — way. How do you get visitors to interact with your brand at a large event? Our headline-grabbing inflatables come in standard options and customizable shapes to really take your event environment to a new level. Create competitions, walled tent space for games, activities, or demonstrations, or turn your product shape into a larger-than-life inflatable that won't soon be forgotten.
No matter what combination of elements you use to create your corner of event space this year, Zodiac Displays will help you create a branded environment that fits your business and your budget. Thinking about your message as a brand and getting creative with the displays to express it will help make the time, effort, and expense of participating in an event well worth the investment in expanding your business.
Want to conquer branding at your next event? Contact Zodiac Event Displays today.